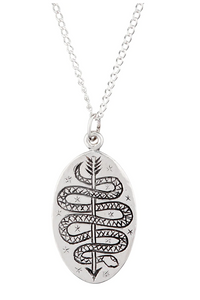 Sterling Silver Serpent & Arrow Necklace
The Serpent is an ancient mythological figure, symbolizing good and evil, and the creative life force. The image of the serpent and arrow represent shedding your skin and transforming yourself. Wear this design around your neck and close to your heart as a constant reminder to stay true to yourself, to always embrace change, and to move forward. Always.

The charm is approximately 1 x 3/4 inch and comes on a 24 inch chain.