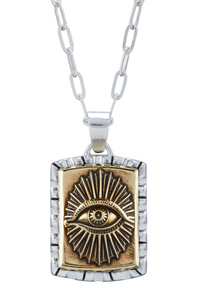 Sterling Silver & Brass
Divine Providence is protecting you and your heart at all times. Wear this classic design of the All Seeing Eye and rays of divine light to invoke the protection, wisdom, and divine intervention that humans have sought for millennia. Inspired by Masonic and Odd Fellows Folk Art, this charm is sure to bring you the luck of the ages.

The Charm is Made from Brass and Silver and hangs on a 24 inch Silver Chain.