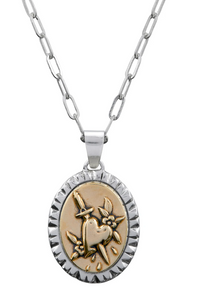 Like a dagger through the heart. Like roses brought to a lover. Inspired by the history of love and tattoos, the bleeding heart imagery represents love lost or won, heartbreak and betrayal, but also commitment and devotion. To symbolize all of the world loving and losing at once, this handcrafted necklace charm represents all matters of the heart.

The charm is made from brass and silver and hangs on a 24 inch silver chain.

LHN Jewelry Is Dedicated To Designing Hand Crafted, Artful Pieces Of Jewelry And Accessories. All The Pieces Are Proudly Made In Brooklyn, New York.