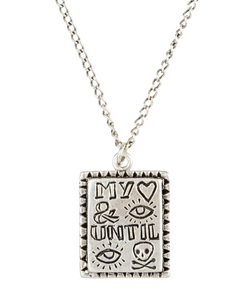 Sterling Silver Necklace
Tell your favorite person you love them til the bitter end with this stylish pictograph necklace charm, influenced by 15th century English & French Poesy gifts.
"Poesy" is a term derived from short poetic rhymes. Popular from the late medieval period onward, these poetic gifts were used to communication one's love.

The Necklace is engraved with words and images, depicting the phrase:
MY HEART AND I UNTIL I DIE

The charm is approximately 1 inch x 3/4 inch and comes on a 24 inch chain.