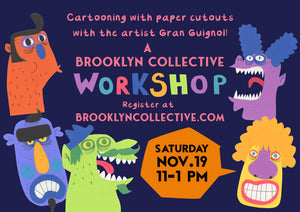 Join Brooklyn Collective artist Gran Guignol for a DELIGHTFUL art class on November 19 from 11am to 1pm!
Draw, cut and paste! Learn how to make funny faces. Welcome to the world of caricature. In this workshop children will have an opportunity to learn how a caricature face is made. They will learn basic shapes, composition, and face expressions through drawing, paper cutting and color, while refining scissor motor skills. This workshop is designed for children ages 6 thru 86, so every one who wants to learn and have fun is invited.
- Class limited to 6 students
- All supplies included
- Bring your biggest toothiest smile!