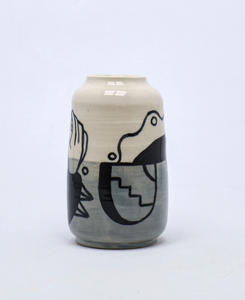 Hand thrown porcelain with custom illustration

Grey underglaze shapes with Black underglaze overlay and clear glaze finish

Approx. 5.5" tall x 3.25" wide x 3.25" deep

All pottery is thrown on the potter's wheel from porcelain stoneware. It's then bisque fired, hand glazed and fired again. Please note that these are not 'perfect' pieces and they have their own unique charm. Each piece is created individually and will, therefore, have its own individual character and imperfections.