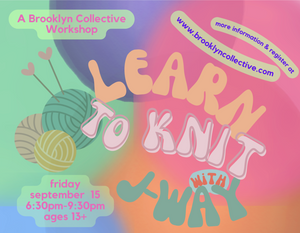 Learn To Knit With J-Way
A Brooklyn Collective Workshop

September 15th, 2023
6:30pm-9:30pm
Located at Brooklyn Collection, 212 Columbia Street in Brooklyn

Craft your own precious pouch to keep all your keepsakes and secrets safe. Also perfect for special rocks and trinkets. 

In this workshop, perfect for true beginners or folks returning to knitting after a while (over age 13), you will learn the basics of knitting by making a simple yet useful pouch.

Skills covered: cast on, knit, purl, bind off, simple sewing. 

Materials included in class fee ($90): knitting needles, yarn (choice of color at class), tapestry needle, small scissors, pouch pattern.

About the teacher: Jessie "J-Way" Wayburn has been teaching knitting and all types of crafts for almost a decade, with a lifetime of experience (containing the full range of quality from very impressive to very, er, rustic) in knitting, crochet, sewing, needle felting, loom weaving, and more.

- Class limited to 12 students
- All supplies you need are included in the cost of the class.